Invisalign
Get the Hollywood smile you've always dreamed of with Invisalign, a revolutionary new treatment to straighten teeth without painful surgery or a dental implant.
Forget about train track braces or ugly retainers, this cutting-edge cosmetic dentistry uses the latest 3D technology to close gaps and align crooked teeth for good.
Comfortable, affordable and fast – it's no wonder that over 2.5 million people worldwide have used Invisalign to transform their smile without disrupting their life.
Want to know more? Call us on 029 2069 3858 to arrange a consultation with our dental care experts and let our Invisalign specialists in Cardiff create your dream smile.
What is Invisalign?
Invisalign is a clear brace system which offers a removable and discreet alternative to traditional fixed braces.
Often described as invisible braces, it is designed for maximum comfort, using aligners created solely for you, using your own unique measurements.
Because Invisalign is completely clear, no-one can tell you're wearing it and you can even take it out to eat, drink or brush your teeth.
For more information please visit the Invisalign website.
How does Invisalign work?
A 3D model of your teeth will show our experienced and friendly staff the areas they need to target and demonstrate how your smile could look after treatment with Invisalign.
A collection of custom-made aligners are created by the Invisalign experts, using our scans and impressions, and must be worn over your teeth for the length of your treatment plan.
Totally discreet and comfortable to wear, their unique fit will help align your teeth into the perfect position, one millimetre at a time, without the need for extractions or other surgery.
Because your teeth will shift into place as treatment progresses, you'll replace your braces with the next set every two weeks to continue to ensure the best fit possible for you.
The Invisalign aligners are designed to be worn as much as possible – at least 22 hours a day – but can also be removed when you need to, unlike traditional braces.
You can also track your progress on your phone or tablet using the Invisalign app as your new smile develops.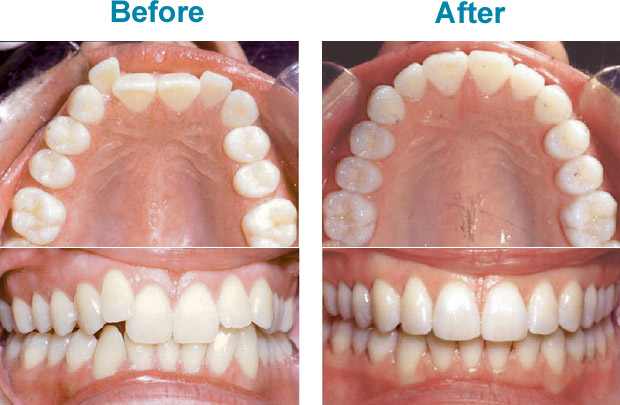 How long does treatment take?
Every treatment plan is different, but most people achieve their dream smile after nine to 18 months of using Invisalign aligners.
Our orthodontic staff will be able to provide a more accurate treatment time at your initial consultation.
Of course, you'll still need to come back every now and again to check everything is developing as planned, but with all your aligners provided upfront, the only other thing to do is to practice that new smile!
Who is Invisalign for?
Anyone who wants straighter teeth!
Invisalign is also ideal if you have teeth that are too crowded, have moved far apart or have shifted since you last wore a brace.
Our experienced dental practitioners can examine your teeth, talk you through the process and discuss the best treatment option for you.
How do I get started?
As one of the leading dental clinics in Cardiff, your journey to straight teeth starts here.
Come into our dental surgery in Cardiff for a consultation, or read our success stories to see how Invisalign has changed the lives of some of our clients.
You won't regret it! We'll be with you every step of the way to help achieve a brighter, straighter smile.
For more information on our Invisalign products please contact us.