Dental Implants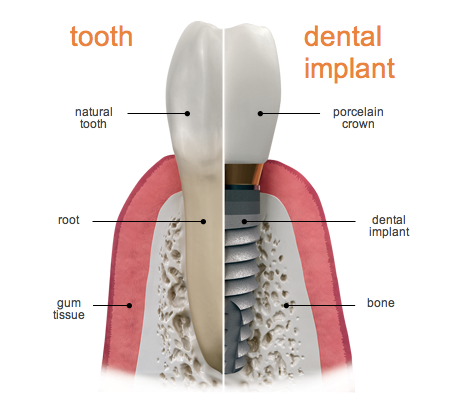 In the last decade, we have witnessed immense improvements in dental care. But people are still losing teeth and when this happens, they need replacements. Tooth loss can result from injury, decay or periodontal disease. For many years, after losing your tooth, all you could get was a crown bridge or denture supported tooth. We at Birchgrove Dental Practice have come around to help people restore their smiles.
Put simply, dental implants refer to replacement tooth roots. Implants are designed to offer a sturdy foundation to your permanent teeth or replacement teeth that have been designed to mirror your natural teeth.
Why Get Dental Implants?
Dental implants come with a horde of benefits besides replacing missing teeth. For most people, these implants enhance their appearance. The implants look and even feel like your natural teeth, and they are made to connect with your bone, making them permanent. With dentures, especially ones that are poorly fitted, the teeth can slip within the mouth and this may make you slur your words or mumble. Dental implants improve your speech and you can talk without the fear of teeth slipping.
When dental implants are installed correctly, they become part of you and, oftentimes, you do not remember you have them. This eliminates the discomfort that comes with removable dentures. Plus, seeing that they feel and function like your natural teeth, without sliding, implants help you chew with ease and without pain.
You get your smile back and this helps you feel better about your appearance. Unlike a tooth-supported bridge, implants do not require you to reduce other teeth. This leaves all your other teeth intact and this improves your long term oral health. You also have easy access to your teeth, for cleaning and dental treatment.
Implants, unlike other cosmetic dentistry options, such as dentures, are long lasting. When taken care of, implants can last a lifetime. You do not have to keep removing implants, and this gives you convenience.
BioHorizons advantage
BioHorizons dental implants are treated with our proprietary Laser-Lok technology. This helps your smile remain beautiful over time.
Why BioHorizons?
BioHorizons dental implants are designed to match your natural teeth to ensure that your natural smile is restored just the way you like it. Each implant is treated with laser-lok technology to help you keep your smile beautiful for a long time.
BioHorizons implants are designed lightweight, strong and sturdy, and biocompatible. Each implant is made from titanium, a widely used material in dental implants products. Titanium is strong and lasts for a long time besides helping you maintain your appearance. You can get individual dental implants, implant supported dentures, and an implant-supported fixed crown bridge.
With a success rate of up to 98 percent, dental implants offer a sure way to replace missing teeth. Implants can last a lifetime when proper care is taken. When you visit dental clinics, you will be advised on how to care for the implant.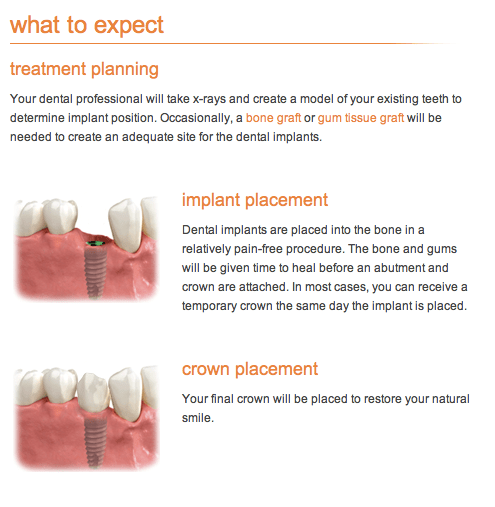 Who Should Get Dental Implants?
If you are healthy enough to undergo a dental extraction or dental surgery, you can as well consider a dental implant. For the implant, you need healthy gums and a strong enough bone on which the implant will be attached. After the implant, you need to be committed to good dental hygiene and you must visit the dentist often.
People who smoke heavily and those with uncontrolled chronic diseases such as heart disease and diabetes need to be assessed by a dentist individually. Again, if you have undergone radiation therapy at the neck or head area, you need to inform the dentist before the implant. If you feel that implants are ideal teeth replacement options, book an appointment and get assessed.
The Dental Implant Procedure
The Planning Phase
When you visit us, the dentist will develop an individualised plan. This plan will look into your specific needs, and is developed by a team of dental professionals experienced in restorative dentistry. They will choose an implant option that suits you best. They will take x-rays and create models of your existing teeth to determine the position of the implant. At this stage, a gum or bone graft might be taken.
Implant Placement
The tooth root implant refers to a small titanium post. This post is placed into bone socket at the position of mission tooth. The implant is placed in a manner that as the jaw bone heals, it covers the implanted post, enhancing its strength. Jaw healing can take up to 12 weeks. After attaching the implant to the jawbone, an abutment or a small connector post is placed on it to help secure the replacement tooth.
New Tooth Placement
The dentist will make impressions of your new tooth based on x-rays taken. The dentist will design model of you bite based on your dentition. A new tooth is attached to the small connector post, the abutment. This new tooth is referred to as a crown. Instead of crowns, some patients choose tooth attachments on implants that maintain a removable denture.
The dentist will ensure the color of the implant crowns and that of your natural teeth are matching. Seeing that the implant is secured on the jawbone, the replacement tooth will resemble your natural teeth in all qualities.
Are Dental Implants Painful?
The procedure is simple. The implant surgeon will take all the necessary precautions to ensure that you are comfortable. In fact, save for a little discomfort, you will not feel any pain. Local anesthesia is used during the procedure. According to most patients, the discomfort and pain involved in implants is less than that of tooth extraction. You will feel mild soreness after the procedure.
Dental implants give you a chance to enjoy real teeth and have your smile once more. You can book an appointment with a dental implants Cardiff professional and have your implants today. Implants require the same dental hygiene as real teeth, which means, brushing, flossing, and dental checkups among other routine dental care.
For more information, please Contact us.